---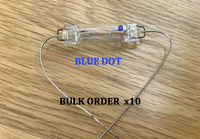 We sell the genuine & correct parts.
BULK ORDER x10
WHARFEDALE speaker crossover Fuse Lamp Sylvania 
Blue Dot EVP others.

There are RED DOT & BLUE DOT bulbs.  THEY ARE DIFFERENT RATINGS.

These are built in the USA, by Osram Sylvania to the correct specification.

These are not cheap China copies, like most.

DO NOT FIT NON GENUINE FUSE / LAMPS.

NOT EVER EVER EVER.